Small Business Phone Systems Available for the Columbia, MD, Area
Cisco BE 6000
CISCO BUSINESS EDITION 6000 PHONE SYSTEM
Small Business Phone Systems Columbia MD:  The BE6000 offers premium voice, video, mobility, messaging, conferencing, presence, instant messaging, and contact center features in one integrated solution.
Cisco BE 6000 is not just any office phone system.  It is a state-of-the-art complete collaboration solution that will transform the way your small to mid-sized organization communicates. Designed for organizations with up to 1000 employees, Cisco Business Edition 6000 (BE 6000) is enabled by virtualization technology and consolidates multiple collaboration applications on an integrated platform.
Built on Cisco's world-renown unified communications (UC) architecture, the BE 6000 PBX phone system boasts a variety of collaboration options that offer end users the flexibility to customize their solution precisely to meet their specific organizational needs.
FEATURES
3 models designed for a wide range of company sizes and business workloads.

BE6000S:  Supports up to 150 users, 300 devices and five fixed collaboration applications.
BE6000M:  Supports up to 1000 users, 1200 devices, 100 contact center agents and five collaboration applications.
BE6000H:  Supports up to 1000 users, 2500 devices, 100 contact center agents and nine collaboration applications.

End-to-End User Collaboration– voice, video, web collaboration, file sharing, messaging, instant messaging and presence, mobility, conferencing, paging, Cisco Emergency Responder, and more- on any device.  Learn more about Cisco Spark integration.
Unified Communications– integrates voice and video call control, native call queuing, and bring-your-own device (BYOD) support.  Options include Cisco Jabber for unified messaging and presence on any device at any time in any location, and Cisco Unity Connection that delivers reliable speech recognition, voice messages and Auto Attendant services.
Communicate like a Rock Star– high quality, affordable multiparty video conferencing capabilities.
Easy setup and management– preconfigured virtualized server, software and collaboration applications.
Open architecture– transparently supports third-party applications, TelePresence and video endpoints.
Scalable platform– ability to grow and change as your business evolves.
 
BENEFITS
Fully customizable- choose the collaboration solutions that you need now with the flexibility to change them as your business evolves.
Enhance productivity- create an efficient working environment by allowing users to work securely on any device, from any location, at any time.
Increase customer satisfaction and loyalty with quick response times and efficient communications.
Reduce operation costs by providing your IT staff with a single solution to manage.
Lower total cost of ownership with hardware consolidation, reduced power and cooling costs, and simplified provisioning and system management.
Server-based call control so it can intermingle with existing servers, PoE switches, wireless access points, and gateways saving additional time and money.
LEARN MORE
Click below to view Cisco's Transform Your Business with Cisco Business Edition 6000 webinar.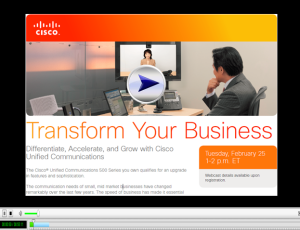 The communication needs of small to medium-sized businesses have changed remarkably over the past few years. The speed of business has made it essential for you to communicate effectively with customers, vendors, and peers. Richer, faster interaction with internal and external executives has become imperative.  Additionally, with the emergence of web conferencing, video and instant messaging, the preferred method of communicating is shifting, thus impacting how business "gets done". The Business Edition 6000 Cisco phone system addresses these rapidly emerging trends- at a price point that you can afford.
Contact us to learn more about small business phone systems Columbia, MD.
Click here to view ACC's full line-up of business phone systems.