Toshiba IPedge
IP BUSINESS PHONE SYSTEM SOLUTION
One of the most important assets for your small or large business enterprise is your communications system.  The right business phone system gives you the power to attract customers, improve customer satisfaction, save money, increase productivity and enhance your image. Toshiba's award-winning IPedge IP Business Phone System is a sophisticated communication solution delivering voice, data, video,
UCedge™ mobility
, voicemail, contact center software, central system administration,
Call Manager
,
unified communications
, call accounting, and conference bridging, Salesforce integration, and more in one sleek box. The IPedge Net technology allows you to network multiple systems together with up to 1000 users to exponentially expand capacity and integration between locations. Additionally, the IPedge uses your IP network for call processing and administration, which offers huge advantages over traditional business phone systems.
SINGLE SERVER FOR ALL APPLICATIONS
Rather than requiring individual servers for each application, the IPedge utilizes one robust unified server, thus providing significant savings on equipment purchasing and maintenance. Applications include:
INTERNATIONAL CALLING COST SAVINGS
While the IP Mobility or UCedge apps are enabled, outgoing calls are placed through your Toshiba office phone system to find the lowest-cost routing option.  For example, international calls made from your cell phone are actually billed at landline rates since the app syncs with your company's on-site Toshiba PBX phone system!
ALWAYS STAY CONNECTED WITH MOBILITY
Your employees are not stationary, so why should your business phone system?  Toshiba's UCedge™ Unified Communications application for Apple iOS and Android devices enables your smartphone, tablet or laptop to act as your business extension.  Receive full desktop functionality on up to three devices simultaneously.
Features include:
Visual Voicemail
Contact Center Features
Call Transferring
Fax Management
Instant Messaging (IM)
Presence
Consolidated IM
Call history & more
Enable incoming calls to ring both your desk phone and smartphone sequentially or simultaneously.  Outgoing calls display only your office phone caller id to the caller- not your cell phone number. Toshiba's UCedge UC app provides landline calling rates for international and long distance calls by placing calls from your smartphone through the Toshiba office phone system. For additional mobility functions and advanced applications, please view Toshiba's IPedge brochure or Toshiba's UCedge Infographic.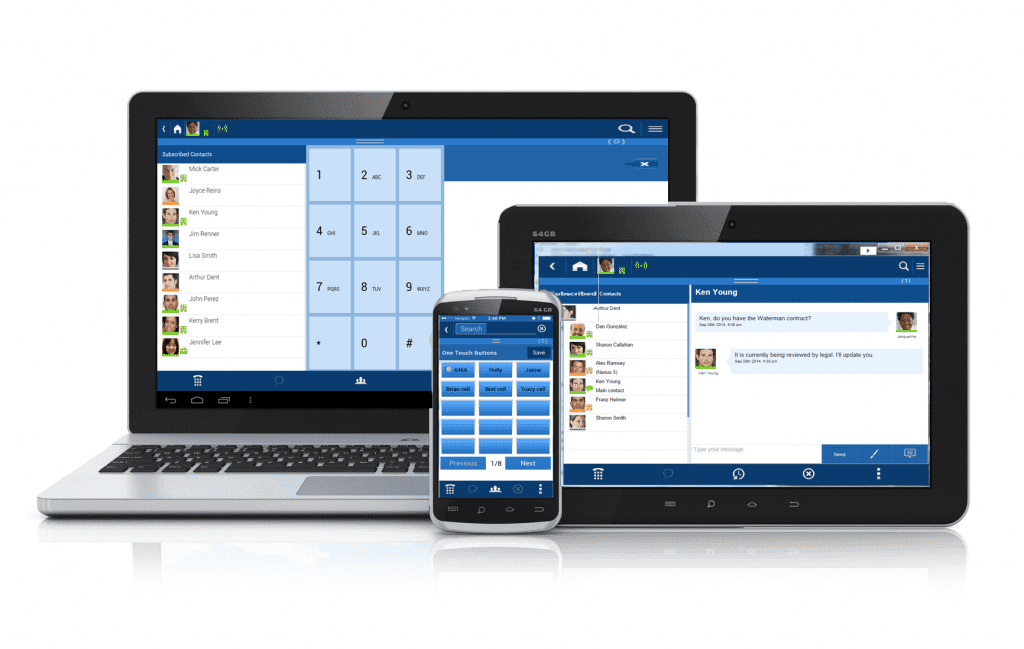 CONTACT CENTER EFFICIENCY
You don't need a large call center to manage customer calls. Toshiba's affordable contact center management solutions provide large, medium and small businesses with a competitive advantage. With Automatic Call Distribution (ACD) multiple locations are treated as one by routing calls to available agents, no matter where they are located.
Smart Routing– route important calls based on priority and employee skill set.
Balanced Routing– distribute calls evenly among staff.
Caller Announcements– provide announcements to callers about expected hold times and places in queue.
Website Integration– website visitors can initiate a real-time text chat session with a contact center agent or request automatic callback when an agent becomes available.
Call Manager Call Control Functions such as presence status, Chat/IM, CRM integration with account screen pops, and desktop call control.
Managerial Tools including statistics, reporting, recording, and forecasting are available via a browser-based interface.
COST SAVINGS WITH SIP TRUNKS
Extend your cost savings by utilizing the robust capability of a pure IP phone system.  No gateways are required to connect your IPedge server directly to VoIP phone service, which contributes to the 40-60% savings on phone bill costs.
PEACE OF MIND WITH SURVIVABILITY & REDUNDANCY
Toshiba IPedge business phone systems have the ability to automatically re-register to a secondary system if the primary system fails.  Plus, survivability is scalable from one IP phone to some or all IP phones in the primary system, so you choose which IP telephones will continue to operate in the event of network failure.  Furthermore, with SIP trunks, calls will never go unanswered with automatic call forwarding to cellular devices.

CONTACT US FOR YOUR FREE CONSULTATION
At ACC Telecom, we have assisted with office phone system needs for small, medium and large businesses in Maryland, Washington DC and Virginia for over three decades. Please contact us to learn more about small business telephone systems and Toshiba corporate telephone systems.
ASK ABOUT OUR PREOWNED SOLUTIONS!