Toshiba Strata CIX
DIGITAL – HYBRID BUSINESS PHONE SYSTEM SOLUTION
Designed to drive business process integration and unified communications for value and efficiency, Toshiba's Strata CIX small business telephone system allows businesses to implement digital, IP, or combined solution (hybrid) for your small or medium-sized business. The Strata CIX is designed to let you build the right telephone system for your specifications. Toshiba's full line of Strata CIX communication platforms gives you the capacity to expand for additional users, add new applications, and customize functions
for your needs. Toshiba's Strata Net technology allows you to network multiple decentralized locations, providing integration between locations. The Strata CIX series includes a full line of PBX migration-ready
digital
and Toshiba IP phone models, including 8, 10, and 20 programmable button speakerphones, with LCD displays. Choose to expand your one-touch extension buttons with programmable 20 and 60-button DSS add-on modules, and the Strata Virtual Attendant Phone Console.
VERSATILITY & CONVENIENCE
Toshiba Strata CIX IP phone systems allow you to communicate anytime and anywhere, keeping you connected to your small business, employees, and customers. This system supports many types of endpoints and devices, including a complete line of Toshiba IP phones, softphones on laptops, tablets and smartphones, wireless IP telephones, add-on modules, DSS consoles, attendant consoles, VoIP phones, analog telephones, and digital telephones.
STRATA CALL MANAGER- CALL CONTROL FROM YOUR PC
Call Manager combines the functions of your computer and Toshiba phone for one powerful communication tool that allows you to dial, answer or transfer calls, and more, without ever picking up the handset. The integration provides notifications with CRM programs such as Act!, Goldmine, Microsoft Outlook, etc. Users are able to see the current status of co-workers and if they are available and relay information quickly.
UNIFIED COMMUNICATIONS
Toshiba's UCedge™ Unified Communications application for Apple iOS and Android devices enable your smartphone, tablet or laptop to act as your business extension. Receive full desktop functionality on up to three devices simultaneously. UCedge features include:
Visual Voicemail
Call Transferring
Instant messaging (IM) with Presence
Consolidated IM
Call History
Fax Management
Call Thru for International Calling
Only Office Number is Displayed
Up to 3 Devices Per User
ENTERPRISE MOBILITY APPLICATIONS
Business Mobility Applications allow employees to answer business calls, collaborate with coworkers, instant message colleagues, conference call, and more at any time from. IP network access allows full telephone system capabilities to local and remote users using Toshiba's on-site and off-site mobility features.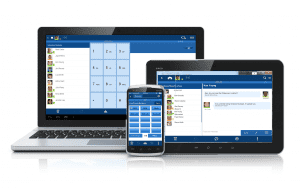 TOSHIBA STRATA CIX PBX FAMILY
Toshiba offers five Strata CIX models to fit the capacity needs of most businesses. Easily upgrade your system or applications as your business evolves. The CIX family supports a full range of network connections from IP network interfaces and SIP Trunks to analog and digital interfaces.
TOSHIBA VOICEMAIL APPLICATIONS
INTEGRATED VOICEMAIL
Improve customer service with instant attention, responsiveness, and access to information for callers. Toshiba's CIX Voicemail options integrate your voice message processing on a single printed circuit card inside your Toshiba phone system so there is no need for external connections, standard telephone ports, or separate power backup systems.
Applications include:
Auto Attendant
Voice Mail
Automated Speech Recognition
Text-To-Speech
Unified Messaging
Fax Integration
Interactive Voice Response
Automatic Call Distribution (ACD)
ACD Reporting
Computer Telephony Integration (CTI) and CRM applications
Strata Call Manager Unified Communications
FeatureFlex® adaptability tools
Network eManager® browser-based system administration
My Phone Manager® browser-based personal telephone administrator
MANAGE YOUR OWN SYSTEM
BROWSER-BASED ADMINISTRATION
Easily maintain the system via your LAN/WAN from anywhere with the browser-based Network eManager, or via modem or direct connection. Network eManager enables centralized installation and maintenance of all Strata CIX office phone systems in the network.
Personal Administration– Users can program buttons and personalize telephone functions using the My Phone Manager personal administration tool and Microsoft Internet Explorer Web browser.
Voice Mail Customization– Custom programming allows for simple personalization of voice mail. Add or enhance such features as recording and playback, audio files, data response, or special call routing.
Feature Personalization– Toshiba's innovative FeatureFlex technology is a revolutionary way of personalizing your system. Modify any feature or create new ones to get the features you want now.
Survivability & Redundancy– Toshiba Strata CIX offers real time survivability for IP telephones and SoftIPT softphones with the ability to re-register to a backup system if the primary fails. Your IP telephones will receive incoming and make outgoing calls while re-registered to the backup system.
CONTACT CENTER CAPABILITIES
ACD SOLUTIONS FOR ANY SIZE BUSINESS
Toshiba's Strata ACD solutions can manage your calls and call distribution without the need for a large call center. Capabilities include:
Automatic Call Distribution- Strata ACD capabilities include skills-based routing, balanced call counts, and priority queuing.
Network Applications- Strata ACD applications enhance multi-site contact centers enabling one integrated call routing system.
Multimedia Web Callback and Web Chat- Allows customers to either initiate a live online chat session or enter their information online for a customer callback request.
Reporting Capabilities- Customize reports on everything from call statistics and agent performance to forecasting tools, scheduled reports, and more.
Desktop Productivity Tools- Computer Telephony Integration (CTI) combines the Strata CIX IP communication system with computer-based custom functionality.
Call Recording and Monitoring Tools- CTI-enabled digital call recording and logging systems record, store, organize and playback calls.
WHY TOSHIBA STRATA CIX?
THE PERFECT SOLUTION
Toshiba Strata CIX IP phone systems allow you to expand your phone system or upgrade to a larger CIX platform easily while reusing telephones and many system components. Toshiba leads the Industry with their National Accounts Program, providing standardized pricing for organizations with multiple locations. Toshiba's optional ValuePlus Extended Warranty Plan is the best in the business, extending the standard warranty coverage to protect your system for either 5 or 7 years. With a Toshiba award-winning communication system, you will have the power to skillfully manage your business communications.
MONEY SAVING FEATURES
Strata CIX capabilities and features can increase your profitability in many ways.
Evaluate call patterns for better management decisions and simplified billing
Manage/Restrict access to long-distance calls
Connect to high-speed digital services
Voice over IP (VoIP) technology minimizes long-distance charges
Automatic outgoing call routing to the least costly line or carrier
Lightning Protection built into C/O cards

CONTACT US FOR YOUR FREE CONSULTATION
For over three decades, ACC Telecom has been offering office phone system solutions in Maryland, Washington, DC, Alexandria, Virginia and the surrounding areas. Contact us for more information on how the Toshiba Strata CIX small business telephone systems can help your small or medium-sized business in MD, DC or VA.
ASK ABOUT OUR PREOWNED SOLUTIONS!