What are Enterprise Mobility Applications (EMAs)?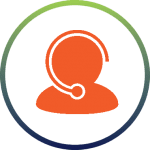 Wireless & Mobility PBX Apps: Welcome to the New Work Environment
ACC Telecom offers the latest advancements in unified communications for your traveling employees and remote workers.
Our unified communication applications and Enterprise Mobility Applications (EMAs) enable your staff to stay connected to the office anywhere, anytime by using mobile apps to work across multiple device platforms such as smartphones, tablets, and laptops.
Mobile-centric users experience the same features of the business telephone system without having to be physically in the office, gaining new levels of convenience, productivity and cost savings.  By using mobile devices as a versatile business phone, employees will never miss important calls, video conferences, group chats, calendar alerts, voicemails, faxes and more.
Enterprise Mobility Applications (EMAs) are mobile apps that are part of your business phone system.  These apps act as an extension of the phone system and provide users with voice service, video, chat, sms, conferencing, presence, voicemail, and more. 
MOBILE UNIFIED COMMUNICATION FEATURES*
INTEGRATED VOICE– provides desk phone capabilities and collaboration features to mobile devices.
VIDEO CONFERENCING & WEB COLLABORATION– high quality video collaboration.
ONE-NUMBER-FOLLOW-ME–  routes business calls to pre-programmed phone numbers so the call  "finds you".
FAX-TO-EMAIL– send and receive faxes via your email account.
VOICEMAIL-TO-EMAIL/TEXT– receive all business voicemails to your email account in .wav file format. Voicemail to text and transcription options available.
VISUAL VOICEMAIL– quickly access voicemails, delete or forward messages.
CHAT WITH PRESENCE– chat with presence/employee availability, group chat and user-provided avatars.
SMS/MMS Text Messaging– send and receive text messages to clients.
MOBILE NUMBER PRIVACY– protects your mobile number by displaying only your office phone number in the caller ID.
CONFERENCE CALLING WITH GROUP CHAT– one-touch button to join conference calls.  Includes group & broadcast messaging.
UNIFIED  MESSAGING– unified call and message history.
FILE SHARING– Share large files on demand with colleagues and customers.
*Availability of  features depends upon your business phone system.
LEARN MORE
Learn how your mobile devices can serve as multimedia extensions of your business phone system.  Contact us today to schedule your complimentary consultation and vendor price comparison.  Unified communications and Enterprise Mobility Applications (EMAs) will enhance your business and connect your employees– so what are you waiting for?  Text us today @ 410-995-0101!